A History Of My Games, Or Something
This was a loooong response to a game design student (and long-time fan) who asked me about how I balanced narrative & mechanics in my games. Instead of a direct answer, I decided to reminisce about my long history of games I've made.
And then -- I suddenly realized I didn't even care about narrative in games until very recently. I didn't even care about narrative in other media. I didn't read many books or even watch many films; most of the media I consumed was in that isolationist, insular echo-bubble of "games".
(I blame the "techie" culture that dismisses the humanities.)
That was a really shocking realization for me, considering how much I care about the craft of storytelling in games nowadays. And at the same time, inspiring. I've been getting a lot more into humanities - not just storywriting, but also anthropology, social psychology, and media studies. In the coming years, what new fields will I explore and come to love? What new fields will I creatively connect? What new fields could I invent?
I COULD INVENT THE FIELD OF BEING WAY TOO DAMN GRANDIOSE. HERE'S THE DAMN EMAIL RESPONSE.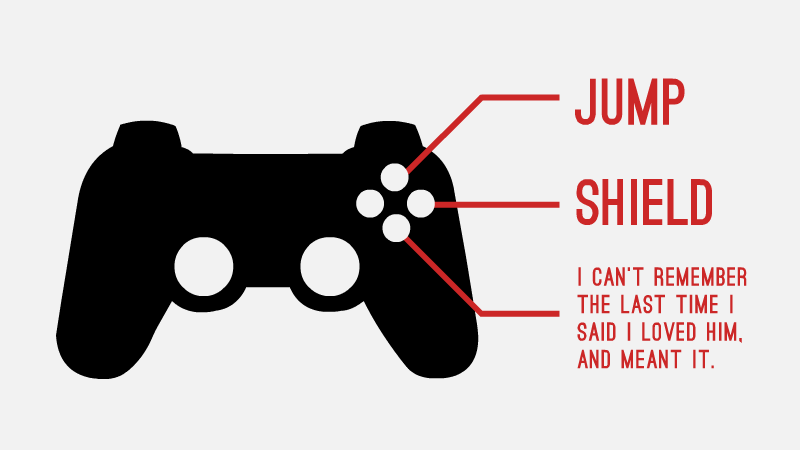 ---
Q: I've played your games a long time now, and I think narrative is your specialty. How important do you think story is, compared to mechanics, world, art, etc?
The really interesting thing about independent artists is that their work reflect their values at the time... and you can go back in time, and kind of create a history of them. Now I'm recalling back to my past games, and it's really interesting to see how my values/interests have changed over time.
For the longest time, my games had no narrative whatsoever.
My first game I published online was a Christmas-themed Snake clone. It was pretty bad.
The next few games I made were all very mechanics-focused, too. None of them took off.
And then I made :The Game:, which eschewed "mechanics" for comedy. Most of the levels were the same -- you just play a guy jumping off a cliff, over and over. This game took off, it was my first taste of success, and that's what probably got me to stick on this path of making games. (Note - there was no "story" in this game, it was pretty much the game equivalent of a series of single-panel comics)
I made two more sequels to the :The Game: series. The 2nd was pretty much more of the same. But the 3rd one had actual mechanics and puzzles, and sort of tried introducing small stories here and there. What's interesting is that the mechanics were based off the things they were parodying -- for example, the Double Rainbow guy could double-jump, and Justin Bieber could attract teenage girls to his location by singing. The mechanics themselves were parody.
After that, my next few games were all very mechanics-focused, with no attempt at "story". Gap Monsters, a negative-space puzzle game. 4 Horsemen, an infinite procedural puzzle game. Secret Santa, a physics puzzle game...
I don't know why my history has been mostly puzzle games. Maybe it's because I like analytic systems? Maybe it's because "mechanical design" is clearest in puzzle games? Or maybe it's just because all the games I grew up loving were puzzle games.
It wasn't until Nothing To Hide that I made a game with an actual narrative.
And even then it wasn't a good one. My storywriting skills were actually pretty bad when I started making Nothing To Hide. So for a month, I practiced storywriting by writing one short story a day for the WritingPrompts subreddit. My skills improved dramatically, and I learnt a lot more about the craft. THIS was the time I finally got really interested in storywriting -- so I started reading lots of novels, (mostly Kurt Vonnegut & Chuck Palahniuk) and read lots of blogs on the craft of storywriting.
Coming Out Simulator 2014 was the first, and so far only narrative-focused game I've made.
I applied a lot of the storywriting tips and skills I learnt to COS2014. But those skills I learnt were mostly for writing linear books, not for interactive games. For learning how to tell interactive stories where the interaction actually matters, I studied Telltale's The Walking Dead series. The Walking Dead is one of the only few games that actually made me cry. The story is amazing, and they use interaction to make you feel what it's like to make a tough choice, rather than just watching someone else make a tough choice. No other medium other than games can do that!
Now, I'm really interested in better merging mechanics and story. I wrote a post about it that was featured on Gamasutra, hope it helps you and others!
Because for the longest time -- and still today, actually -- "mechanics" and "story" are seen as separate things in games. Why can't stories be mechanics in themselves? Instead of mechanical skill to beat a puzzle, why not use your social skills to persuade a character? If actions speak louder than words, why not have actions in game affect the story, rather than limiting story-choices to dialogue-choices?
Anyway, that's a looooooong answer... hope that answers the question, somehow.
In short, my games have been mechanics-focused for a very, very long time, and it wasn't until very recently I became interested in stories in games, and the kinds of unique stories that only an interactive medium can tell.