The Caterpillars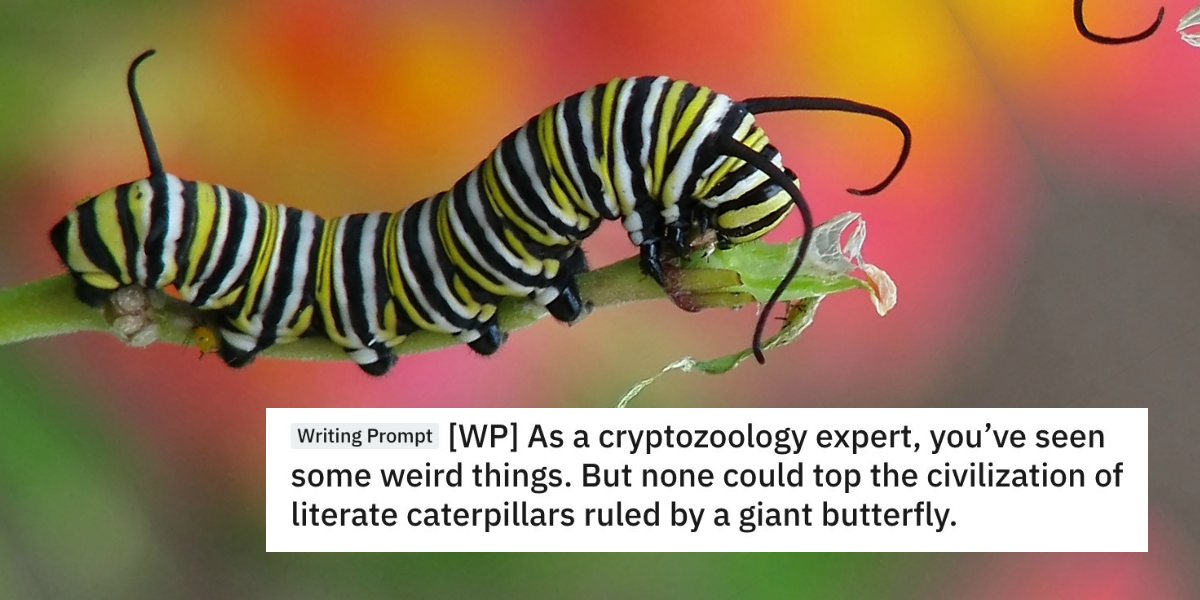 "Is this... just one long setup for a 'Monarch Butterfly' pun?"
"Jun-mo, I know my report may be hard to believe..."
"You don't fucking say!"
"Which is why I brought a few specimens with me today."
"... Holy dick."
---
Field Log of Kim Seo-Yun
[Day 430]
One observes many strange things as a cryptozoologist. In my personal career, I have collected Sasquatch droppings, mapped a nest of Chupacabras, and tracked sea serpents across the Indian Ocean. But I never expected to discover a new species of cryptid, let alone one with a writing system.
We're in the Boreal forest of Canada, and we've uncovered a civilization of literate caterpillars. Their king is a butterfly.
[Day 431]
This morning, I found a leaf in my field site tent. It is a maple leaf with a grid of holes across it, akin to Braille, presumably created by the caterpillars eating through them. My colleagues found similar maple leaves in their tents, with an identical pattern of holes. Clearly, not only are the caterpillars are aware of our presence, they appear to be welcoming of our presence.
A further observation: on the bottom-right of my leaf, there is a hole in the approximate shape of butterfly. Hypothesis: this is an invitation card.
We've been granted an audience with the king.
[Day 432]
We prepared a fruit basket as a gift. We hope this collection of week-old mushy bananas, oranges, and watermelons will ensure an auspicious relationship with the caterpillars.
Our team will visit the king tomorrow. In the meantime, I will perform a lexical analysis on the invitation leaves they gave us, along with other samples of their writing. If we want to truly understand the caterpillars – their dreams, their fears, their day-to-day lives – we need to learn their language. Fruit baskets will only get our relationship so far.
We know only one word: their king's name is ⠿⠿⠿
We can understand them. We must understand them.
---
Journal of Park Jun-Mo
[Day 805]
Dear Diary, you won't believe this shit.
Last week I got an email from an old pal -- you know, Seo-Yun, the co-president of our high school X-Files fan-club? –– saying she was in Cambridge for a while and wanted to catch up. Hey, why not? I could use an amusing distraction from my high-pay, high-stress, 80-hours-a-week bullshit job.
Her email had a pdf attached. Serious-looking. Professional as balls. But it felt straight outta an LSD-fuelled sci-fi story. She talked of a city of caterpillars, their leaf-hole writing system, and her year-long efforts to understand them. Why? Because "to understand another is to understand yourself", or some tweet-length pseudo-Zen thing like that. In the report, she tells me all about their caterpillar-language, their caterpillar-history, their caterpillar-religion on life and death and reincarnation.
Good shit, right? Must be a marketing ploy. Maybe they're making a gritty reboot of A Bug's Life, I dunno.
Anyway, I thought it'd be nice to hang out with good ol' S.Y again! I always thought of her as the parallel-universe version of me. A universe where I didn't let my parents nag me into business school, a universe where I stuck with my obsession for all things weird and paranormal, a universe where – apparently – I live in a forest for two years, talking to caterpillars. The truth is out there!
S.Y and I met up for hot pot and boba. Afterwards, she invited me back to her place, (ah, I thought, so this was that kind of high-school reunion) and that's when she opened up a shoebox with air-holes, labelled "Ambassadors".
The caterpillars are real. And they're looking for a human mate.
---
Speech of King ⠿⠿⠿ the 554th (Translated by Kim Seo-Yun)
[Day 1023]
One lives, one dies, one lives again.
I know not of my life before my Rebirth, but I can feel my life from before. I carry the knowledge in my flesh. When it is a Child's time to begin her Transformation, she blankets herself in her silk, to wake from the dream of her Childhood. Within her blanket, her body dissolves. She has to destroy herself entirely to become a new being.
But not all is lost. The memories of her past life are kept, not in her head, but in the soup of her body. The Giantess tells us this is due to "epigenetics" and "gene expression", but we have an older, simpler word for this: the Soul.
O, the Soul. Mine is very old indeed. I have lived a long six weeks, and I can feel my Soul fading. I know one of my Children will courageously take up the crown, as I've done for my father before, and his father before, on and on, to the day the Giants first arrived bearing Mushy Bananas.
I know not if there will be a second Rebirth. When my Soul passes, what will my next form be? No Child or King has ever seen the next form, or knows if it exists.
But to-day, this ancient question can finally rest. I only regret that my forefathers did not live to hear the answer, and that I will pass before I can see the answer. We know our next form.
We will become one with the Giants.
---
Unofficial Press Release by Park Jun-Mo
[Day 1024]
Dear colleagues, partners, and fellow Board of Directors:
Fuck you, and fuck your mothers.
I work my ass off for 12 years in school, so I can work my ass off for 2 years for my Harvard MBA, so I can work my ass off for 10 years at this shitty company – and when you hear rumors of my terminal, work-stress-induced brain hemorrhage, what do you do? You fire me. Oh, you dressed it up with euphemisms and "early retirement plans", but a shit by any other name smells just as sweet.
Yes, the rumors are true: I am going to die.
And yes, the other rumors are true: I am going to be re-born.
You've seen the videos. You've heard the interviews. You've even read some of their maple leaves. There's an intelligent civilization of caterpillars in Canada, and they've named me their first Human Mate. Lemme say: having a harem of caterpillars stroke your dick every night? Surprisingly better than it sounds!
I won't bore you with the technical details, but the sex is changing my DNA. Like a weird slashfic, they're preparing me for my Transformation. They're going to wrap me in silk, melt my whole body, and re-shape my soup-ified flesh into a new being. Don't worry, I'll still remember you. And when I'm the Hybrid Human-Butterfly King of the world, y'all can kiss my chitin-covered, multi-segmented ass.
Not you though, Seo-Yun. You're cool. Real talk: you're the only one who ever understood me, and when I'm King, I'll make you Duchess or something. See you on the other side, Scully.
---
Field Log of Kim Seo-Yun
[Day 1336]
In the field of cryptozoology, it's an honor enough to discover a new cryptid. It is beyond one's bravest hopes to witness the birth of a new cryptid.
My old childhood friend, Jun-Mo, will emerge from his chrysalis soon. He won't know who I was in his past life, but he'll feel who I was in his past life. However, if I understood him: he never understood himself. This is not the first time he's destroyed himself to create himself anew, and it likely won't be the last time, either.
When we were children, I once went over to Jun-Mo's place to watch a VHS tape of Disney's Alice in Wonderland. There's a scene where a hookah-smoking caterpillar taunts Alice over and over with the question: WHO... ARE... YOU?
She never answers.
---
(originally posted on r/WritingPrompts)
photo of monarch caterpillar by vicki deloach