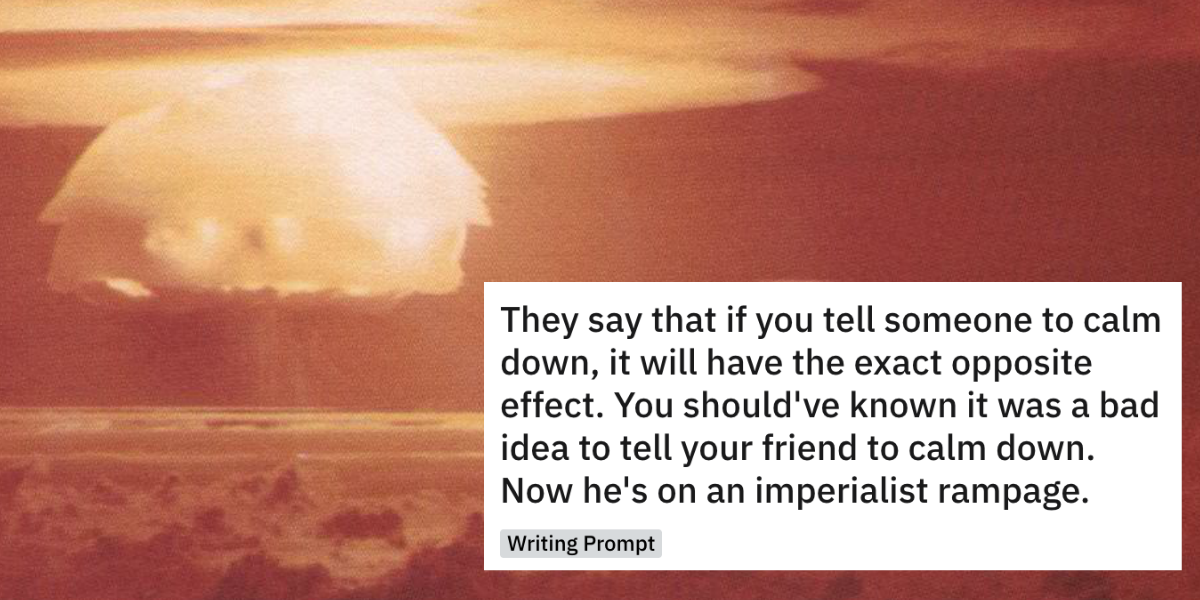 My friend's hand shivered over the Nuke Canada button. He yelled:
"CALM DOWN?! I AM CALMED DOWN. YOU CALM THE FUCK DOWN."
I pinched the bridge of my nose. "Carl, dude. You're having a temper tantrum again."
"A WILD ALLEGATION AGAINST MY GOOD CHARACTER."
"Man, you always regret your angry actions later. Just take your hand off the button, okay?"
"WHAT, THIS BUTTON?" Carl slammed his fist on the big, red circle.
"Aaaaand that's 37 million folks dead. Congrats, Carl. Do you feel better?"
"NO. IT HAS NOT BROUGHT US ENOUGH GLORY." His hand hovered over Nuke Portland, Oregon. "PERHAPS A PRE-EMPTIVE STRIKE ON YOUR HOMETOWN SHALL HELP?"
Okay, now he was starting to piss me off. "Carl, that's your hometown too."
"WE MUST END THE PAST TO MOVE INTO THE FUTURE."
"You have friends and family there."
"I AM WILLING TO MAKE A SACRIFICE FOR THE GREATER GOOD."
"Not to mention your favorite microbrewery, really great food trucks, that unicycling Darth Vader bagpipes guy..."
"ALL FILTHY SYMBOLS OF MODERNIST DECADENCE." He slammed on the button.
"Okay then." I swung a fist into Carl's jaw.
"DUDE WHAT THE SHIT"
I threw Carl to the ground, and kicked him in the ribs.
"FUCK, I'M SORRY DUDE! FUCKING STOP."
I picked up a metal stool, and raised it above his knees.
"OH MY GOD NO NO NO CALM DOWN!"
"Excuse me, Carl?"
"I SAID CALM DOWN! JESUS CHRIST, PLEASE CALM D..."
"What were those two words, Carl?"
"...Oh. Okay, I see what you're doing here."
"Thank you for using your inside voice, Carl."
"Man, you're such an asshole."
"I did that because you hurt someone I deeply cared about."
"Fuuuuuck, I'm sorry I killed Darth Vader, okay?"
"That's not who I'm talking about."
"A Canadian then? Is this your imaginary girlfriend in Canada?"
"It's you, Carl."
"I'm your imaginary girlfriend?"
"You're the person I deeply care about."
Carl stared blankly. I put down the stool, and continued:
"Every time you go Manifest Destiny on me, you make yourself feel worse. You know venting anger doesn't work, right? They scientifically tested that. BJ Bushman 2002, look it up on Google Scholar."
Carl's blood dripped down his chin. I passed him a napkin. "Dude, I just want you to be happy."
"What if I don't fucking want to be happy?"
I frowned. "You don't want to be happy?"
"No, man. I want to be heard."
"It's hard to hear you over the sound of a hundred nukes going off."
"Maybe you suck at listening."
"Maybe you suck at expressing yourself."
Carl paused. He smiled through his bleeding lips. "Yeah, maybe we both suck."
I helped him stand up. "Let's both try to suck less, okay?"
We stumbled to the window, where we could see nuclear mushrooms blooming across the horizon. Carl spoke. "You know, I think I learnt a valuable lesson today."
"Yeah?"
"I grew up thinking it's, like, not okay to talk about pain you're feeling. Like it's a sign of weakness of something. If you get sad, people will just tell you to man up. If you get angry, people will just tell you to..."
"...Calm down."
"Exactly."
"No, you're right, Carl. I messed up too. I should have been a good friend and listened to you, rather than tell you to calm down."
"Nah it's alright dude. I know you only said that coz you wanted me to be happy."
"But forcing happiness in the short-term makes you feel shittier in the long-term."
"Yup. And hiding my pain now means causing more pain later on."
"No pain, mo' pain."
"Exacta-mundo."
We stood at the window side-by-side, close enough to be friendly, far enough so it didn't seem gay. Actually, screw it. I gave Carl a hug. We marveled at the red-orange radioactive plumes being blown eastward over a quintuple sunset.
"Carl, I'm glad we learnt this lesson in friendship before it was too late."
"Yeah, someone could've gotten seriously hurt."
---
originally posted on r/WritingPrompts