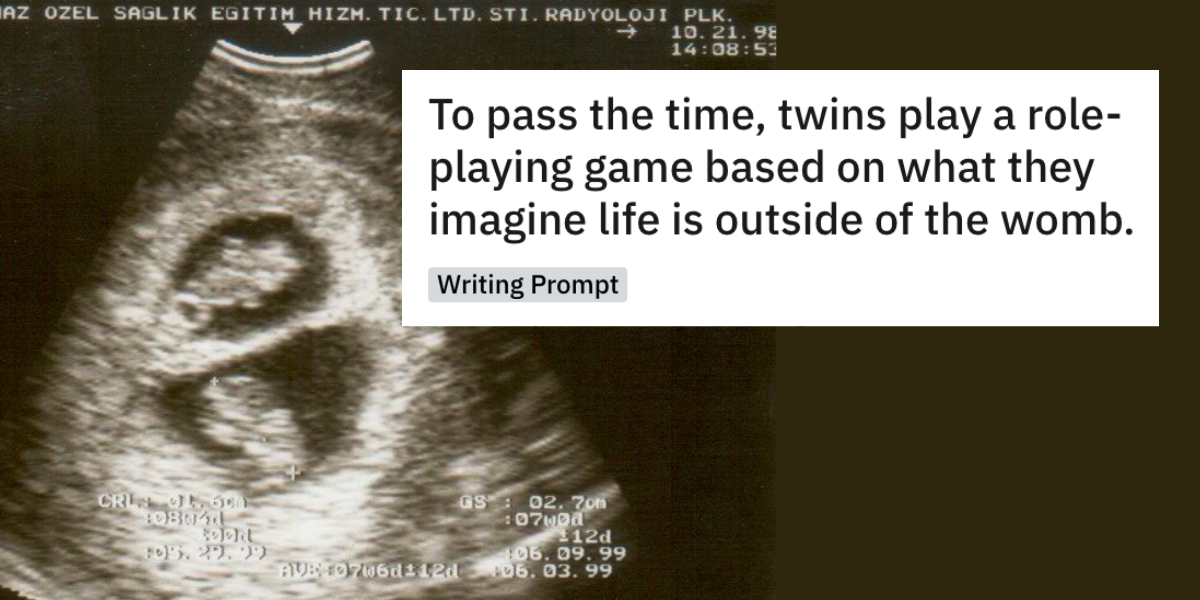 "Hey, sis! Wanna play I Spy? I spy... something sof–"
"Placenta."
"Wow! Okay okay next thing, I spy... something mois–"
"Placenta. It's always placenta. Can we play something else?"
"Sure! Rock Paper Scissors? Twenty Questions? Kick The Wall Until Mom Tells Us To Shut Up?"
"How about... let's role-play. Let's pretend we're finally out of here."
"Um, okay! But, I mean, it's not so bad in here, just you and me, right?"
"I want to be a doctor."
"Oh... okay! You grow up to be a doctor and I'm–"
"You'll be Mom."
"Sure! So, doctor, what are we doing today?"
"We're going to help you give birth. Lie back."
"Hmmmm but my twins love hanging out together in there!"
"They can hang out when they're out. Spread those legs."
"Sure sure doc, but it's not the same, no? They won't be as close. What's the big rush?"
"The big rush is that I'm a doctor and I have lots of cool exciting things to do with my life. Nurse, hand me the plunger."
"Yeah but all that excitement won't mean anything if you don't spend it with people you care about, right? People you love...?"
"I'm going to travel the globe. Perform badass surgeries. Everyone will love me."
"But will you love anyone bac–"
"PLUNGER IS ON THE HOLE."
"Wait, doc–"
"PLUNGING. HUP HUP HUP HUP"
"Doctor, will my twins–"
"THERE'S ONE TWIN OUT. TIME FOR TWIN TWO. HUP HUP HUP HUP"
"Will they still be as close–"
"AAAAAND THERE'S THE OTHER ONE."
"Hang on, sis–"
"WHAT A SUCCESSFUL BIRTH!"
"Sis, I..."
"I AM BEST DOCTOR."
"Sis, I love you."
"..."
"And, and... I don't want us to grow apart, like... like..."
"I know."
"You... you do?"
"Yeah I love you too you big stupid baby."
"Then why do you want to leave so badly?"
"Because I want change! I want adventure! I want to see more than just spy the same soft, moist placenta day in and day out! Why do you want to stay in here so badly?"
"Because I'm scared of being alone."
"You won't be alone outside. I'll still be there."
"But will we be as close?"
"I don't know."
"You don't know?"
"People grow, sis. Sometimes they grow apart. But maybe that's a good thing, because you need to be apart to have space, and you need space to grow as a person. Your own person."
"Is being closer to yourself worth being less close to others?"
"I don't know."
"...you don't know."
"It's a hard tradeoff. Don't know where the balance is. Hey, don't cry sis! Please don't cry. If it's any consolation..."
"...yeah?"
"If it's any consolation, I'm sure once we get out of here, and grow into adults, they'll inform us exactly how to find the right balance in all areas of life!"
"Y...yeah! Those adults have it all figured out! They'll tell us."
"Good to see you smile. I hope that helps."
"It does. Thank you, sis."
"Oh! Speaking of which, I think Mom started having contractions."
"Really? Let me touch the wall to–– oh. Um, was that water supposed to burst?"
"Probably? I think we're being born now. You ready?"
"Not really."
"Me neither. Hold my hand, sis. Let's go."
"Okay. HUP HUP HUP HUP"
"HUP HUP HUP HUP"
---
originally posted on r/WritingPrompts