Lizard Person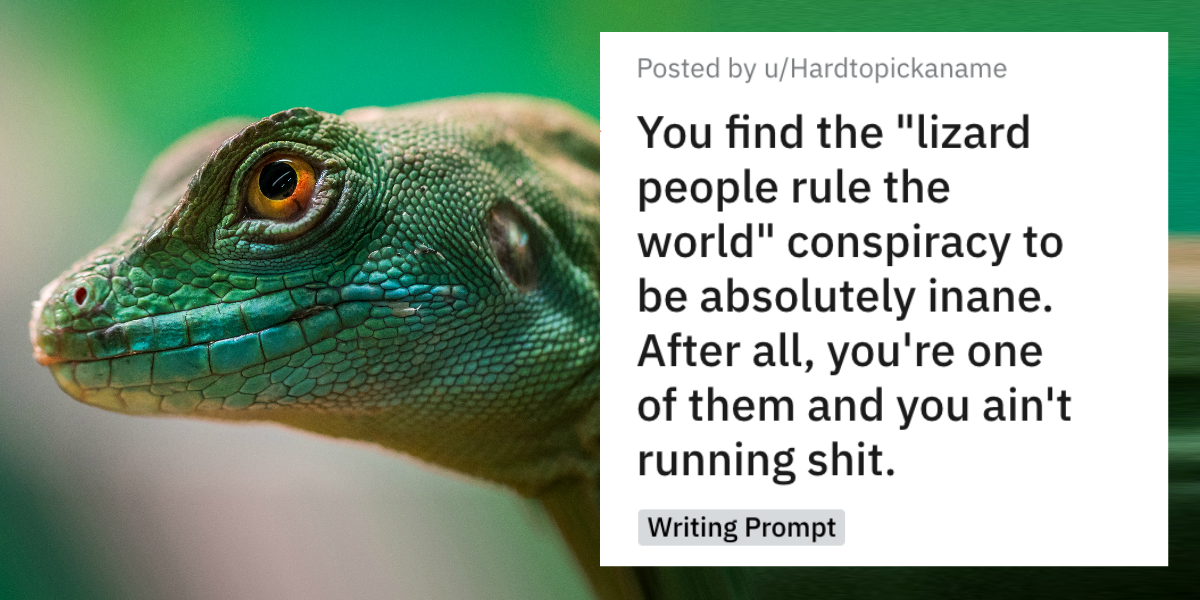 "First of all, we prefer Reptile American, not lizard person," said Liz, the lizard person.
Bill from BuzzFeed jotted this down in his overpriced Moleskine. He couldn't believe it – here he was in this mom-and-pop diner at midnight, interviewing a real-life lizard person! The puppetmaster behind the strings of the cat's cradle that is our world, and he got to blow the story wide open! Finally all those people who thought Bill was never good enough, who thought all he did was tabloid clickbait, well who's laughing now? Edward Snowden ain't got squat on Bill today, no-sir-ree!
"And no, we don't control the world." Liz fiddled with the human-mask she'd taken off for the interview. "I barely control my life. I've worked at this diner for 10 years. Thought I'd get promoted from waitress by now, but–"
Bill cut in. "so what are your thoughts on the Bilderberg Group?"
"The–" Liz frowned, though it's hard to discern emotions on a lizard face, "–what? No! All those conspiracy theories are just made up by powerless people to feel like there's some semblance of logic out there. But there isn't! There's no logic, there's no system, there's no Illuminati. It's just us and our dumb asses."
Bill made a note: LIZARD PERSON DENIES EXISTENCE OF ILLUMINATI
"I can read that upside-down, you know."
LIZARD PERSON USES SUPERNATURAL SENSORY TACTICS
"Damn it, I knew this interview was a bad idea. Why'd I think that anyone would ever care about someone like..." Liz turned away from Bill. She looked out the diner window. Complete dark. As if the only things that existed in the universe were Liz, the diner, and this dumb J-school dropout.
Bill paused. It was pretty clear he wasn't going to get the 10-million-clicks story he wanted. Maybe she had a different story?
He closed the Moleskine. "What do you want people to know?"
Liz turned back to Bill.
"I want them to know me."
"Tell me about yourself, Liz."
"Well, I'm–" Liz stumbled. When was the last time someone asked her that? "–I'm... I'm funny! People don't know this but I'm actually an aspiring stand-up comedian, when business gets slow at the diner I practice writing jokes."
"I'd love to hear one, if you don't mind?"
"Um–" Liz choked. "What... what do you call it when a Reptile American gets her period?"
"What do you call it?"
"A clo-ACHE-a!"
Bill stared. No reaction. Liz started fidgeting. She stared down at her human mask. She felt sick.
Bill opened up his Moleskine again, and wrote:
LIZARD PERSON IS ACTUALLY REALLY HILARIOUS, OMG
Liz looked up.
LIZARD PERSON IS ALSO... KIND OF CUTE?
Liz jolted back.
"Oh! Um um uh I mean WOW okay no-one's ever WHOO wow hm yes alright SO CONSPIRACY THEORIES EH, HOW ABOUT THAT JET FUEL"
"Hey." Bill tossed the Moleskine into his Lululemon man-purse. "Forget the interview. I've got a backlog of duckling GIFs to make my click-quota for the week."
Liz tried to stop her tail from wagging. "I'd... I'd like to see those ducklings."
"My laptop's back at my place."
"I'd..." Liz failed to stop her tail from wagging. "...I'd still like to see them."
Meanwhile outside the diner in the void of night, billions of people tried to make sense of their lack of control in a world that seemed spinning out of control. Sometimes they blamed lizard people. Sometimes they blamed themselves. But sometimes, they realized that even though their lives meant nothing in the grand scheme of things, they could still find little moments of joy in places like a crappy off-highway diner, where a 20-something intern was walking back to his car with a 1200-something lizard person, who felt like she was 600 again.
---
this short story was originally posted on r/WritingPrompts